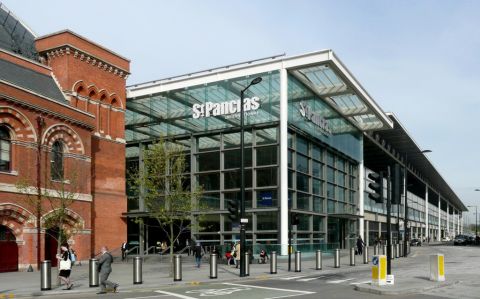 JDW pulls into St Pancras
AG&G acted on behalf of JD Wetherspoon to secure a 6,500sq ft unit at St Pancras International Station, which will be turned into a pub called The Barrel Vault. The ground-level pub is part of a £2m development that will create 60 jobs and seat 270 people plus standing room and a terrace.
Wetherspoon spokesman Eddie Gershon said: "We are looking forward to opening the new pub at the iconic St Pancras. We believe the pub will be a great asset to the station and will be welcomed by travellers and visitors alike."
Wendy Spinks, commercial director of HS1, which owns and operates St Pancras International, added: "The Barrel Vault complements the station's offer perfectly."
Panayiotis Themistocli of AG&G said: "JD Wetherspoon have a very strong track record of trading successful pubs within transport hubs within many Railway Stations and Airports nationwide.  We firmly believe that JD Wetherspoon's bespoke (non-branded) 'Barrel Vault' operation will really enhance the existing food and beverage offering within St Pancras Station".
Key info about the deal/pub
The landlord of St Pancras International Railway Station advised AG&G that they were seeking a wet-led operator for the Iconic St Pancras Station on the basis that they have agreed to relocate an existing food store retailer to make way for an exciting new 6,500sq ft public house.
The unit benefits from an extensive open plan floorplate and a lengthy glazed frontage along Pancras Road which lies directly opposite YouTube's London Headquarters.  An outdoor area is also proposed facing onto Pancras Road.
Interesting fact
The Barrel Vault will open at St Pancras International this autumn as part of the train station's 150th anniversary celebrations. The name has links to part of the station that originally stored beer barrels.