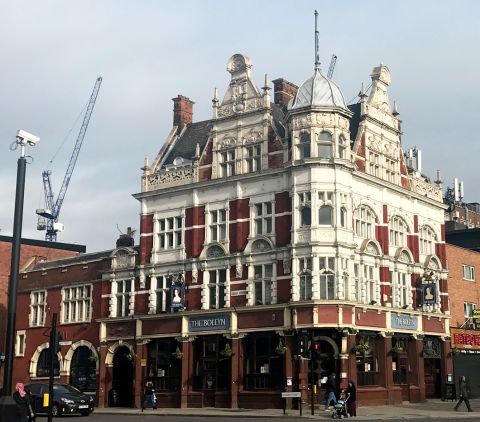 AG&G hammers home Remarkable deal
AG&G acted as the sole selling agent on behalf of Greene King PLC, in the selling the Boleyn Tavern, to Remarkable Pubs, the privately-owned east London-focused pub company.
The deal for the pub, which is situated within an area that is undergoing substantial regeneration, the former Boleyn football ground nearby is currently being developed into 842 new home, brings Remarkable's estate to 15 predominantly freehold businesses.
Managing director Elton Mouna said: "I am delighted to announce on behalf of chairman Robert Thomas and family, after fractious negotiations, we have exchanged contracts on the Boleyn Tavern. Sincere thanks go to agent AG&G, the sterling work of Naomi Jones of solicitors' TV Edwards and the Remarkable Pubs headquarters team led by Liz Pallace."
Panayiotis Themistocli of AG&G said: "We are delighted that this pub has gone to a good home in the form or Remarkable Pubs, who were a pleasure to deal with throughput the process".
Key facts about the deal/pub
The new owners have retained the existing staff and management team and will be closing the pub for refurbishment in the near future.
Interest fact
This gorgeous old building sprawls back, back and further back into a series of rooms that wouldn't look out of place in a stately home, culminating in the grandiose former billiard room at the back.
Jollibee, the Philippines fast food group, which was last year linked with a takeover of Pret, is to make its UK debut with its eponymous brand, MCA has learnt.
The company, which operates over 1,000 restaurants under the Jollibee brand, is understood to have secured the Wagamama in Earl's Court for its first site in the UK.
Ernesto Tanmantiong, president of the Philippines fast food group, said last year that the company planned to be one of the world's five biggest operators by 2025.
Earlier this year the company, acquired a majority stake in Smashburger. It already owned 40% of the US company and paid $100m for a further 45%.
Smashburger, founded in 2007, has 360 owned and franchised restaurants in 38 states and nine countries. This includes seven restaurants in the UK, as well as a Deliveroo Editions site in Leeds.
Jollibee has 2,875 restaurants in the Philippines, including 1,062 units of the Jollibee brand, as well as the concepts Chowking, Greenwich, Red Ribbon and Mang Inasal. It is also a franchisee of Burger Kings, and operates c925 restaurants overseas.
Jollibee's current market value is $5.2bn.