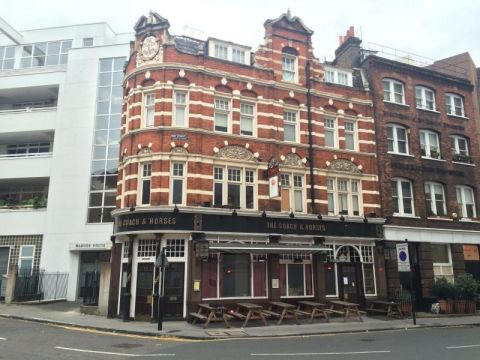 Clerkenwell's Coach & Horses to run again
A local landmark in Clerkenwell, the Coach & Horses on Ray Street, has been acquired through licensed leisure specialists AG&G for private equity firm Ducalian Capital.
Bought off an asking price of £2.8 million, this substantial investment gives new life to a previously closed pub and continues a tradition for the site that goes back to at least 1790, when a publican was first recorded living there.
"It's a strong market and good sites are subject to fierce competition, Ducalian Capital therefore acted quickly to tie up the purchase," says AG&G's Michael Penfold. "It's easy to see the attractions of the Coach & Horses.
"It's a short walk to Farringdon Station, from 2018 passengers will be able to interchange between Crossrail, Thameslink and Underground services which will bring thousands of people into the area. It's also near to Chancery Lane Underground Station (Central Line) and the immediate area has become very fashionable for media and technology businesses, providing a substantial base for lunchtime and evening trade."
Ducalian are planning a complete refurbishment of the pub, which has a footprint of more than 1,000 square feet on a site of more than 1,100 square feet.
James McCulloch, Investment Director at Ducalian Capital, said: "This acquisition fits in nicely with our strategy of acquiring freehold pubs in Central London with development potential. The property commands a sought-after position in the heart of Clerkenwell and within close proximity to the new Crossrail station and will benefit from the regeneration of the whole area"
Locally listed and in the Clerkenwell Green Conservation Area, the Coach & Horses has, unsurprisingly, a lot of history behind it. Lenin, Benjamin Franklin, George Gissing and Charles Dickens may all have drunk there – Fagin's lair in Oliver Twist was a few yards round the corner from the pub.
The River Fleet runs in a pipe by the front door – stand at the kerb and you can hear it flowing though the drain. And if you're in the beer cellar, watch out for the ghost of a murdered publican…
For further information, contact Michael Penfold on 020 7836 7826 or e-mail michael.penfold@agg.uk.com