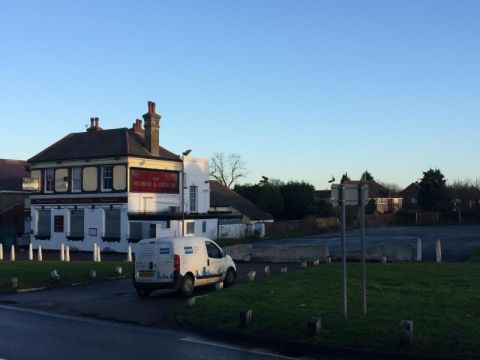 Triple chance for sought-after freeholds
Like buses, you can wait a long time for a large freehold pub site with development potential in desirable Greater London – and then three come along at once.
In Hayes, Dartford and New Malden, the pubs are on sites ranging from 537 to a massive 2,100 square metres and are available through licensed leisure specialists AG&G.
"The seller is being very flexible and will consider offers for the three jointly or individually – and those offers can be conditional on planning consent," says James Grimes of AG&G. "These are a rare opportunity for developers or investors and we're expecting a lot of interest."
The Victoria in Hayes, Middlesex, occupies a site of nearly 1,600 square metres (17,175 square feet), including a car park that can take up to 30 vehicles. It's just north of Heathrow Airport and near the M4.
It's also a mere 300 metres from Hayes and Harlington railway station, which will be redeveloped to serve the new Crossrail link, which will reach the location in 2019. That will make the site within easy commuting distance of central London.
The existing two-storey building is flanked by single-storey extensions to the side and rear.
The Horse and Groom in Wilmington, Dartford, sits on a site of more than 2,100 square metres (more than half an acre) with parking for around 45 vehicles. It has planning permission for a single-storey extension that would allow a dining area to be introduced, making the pub of interest to food-led operators.
A residential development has already been allowed immediately next to the pub, which could be regarded as a precedent, and the local council does not have a policy covering the loss of pubs. The site is just south of the A2 and within five kilometres of the M25, while Crayford railway station, with services to central London, is three kilometres to the north.
The existing building is two storeys tall with side and rear single-storey extensions. The ground floor has two interconnecting trade areas and a former trade kitchen at the rear. On the first floor are four rooms, a kitchen and bathroom. The licence runs from 10am to 11pm on Sunday to Thursday and to 11.30pm on Fridays and Saturdays.
The Prince of Wales in New Malden, Surrey, is on a site of 537 square metres (nearly 5,800 square feet) that is 700 metres from Berrylands railway station and 1.3 kilometres from New Malden railway station, with trains taking less than 30 minutes to central London.
The building is two storeys high, including a part mezzanine level, with a small single-storey extension and garden to the rear. The ground floor features a split-level trade area, with a lower ground floor containing a games room, kitchen and storage.
The second floor has a former function room (one of seven rooms), as well as a kitchen, bathroom and mezzanine loft area. The licence runs from 10am to midnight every day.
Offers are invited for each or all of the pubs, with best and final offers by noon on Tuesday, 24 February.
For further information, contact AG&G on 020 7836 7826 or e-mail info@agg.uk.com