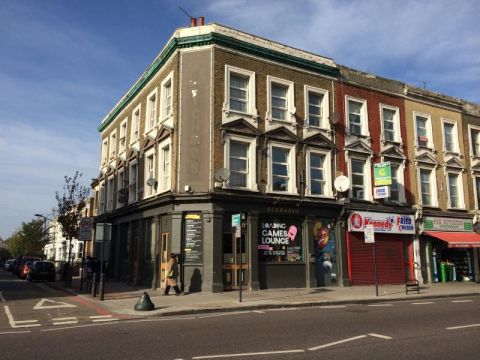 A Scenario with many bonuses
See what you think of this Scenario (the pub on Stoke Newington Road, that is): imposing corner site, set between fashionable Stoke Newington and rising Dalston, late licence on Fridays and Saturdays, free of tie and no less than eight studio flats to rent out on the upper floors.
That's what's on offer through licensed leisure specialists AG&G at a guide price of £350,000 for a lease that runs to 2031.
"With eight flats included in the lease, letting income could make a big dent in the £72,000 a year rent," says Michael Penfold of AG&G.
"Scenario's setting is excellent, with several mid-market food offerings nearby making it something of a destination location. And it's roughly midway between two commuter stations, Stoke Newington around 1,200 metres to the north and Dalston Kingsland around 800 metres to the south."
The pub has a long and illustrious history, with records dating back to 1826, when it was the Hare and Hounds. The building has been refurbished many times since then and the current layout sees a ground floor open plan servery with customer lavatories on a footprint of some 145 square metres (1,560+ square feet). The basement features a former trade area and more customer lavatories plus standard cellarage and storage.
The Scenario's licence runs from 11am each day, to 11.30pm Sundays to Thursdays and to 1.30am on Fridays and Saturdays. The next rent review will be in 2016.
For further information, contact Michael Penfold on 020 7836 7826 or e-mail michael.penfold@agg.uk.com