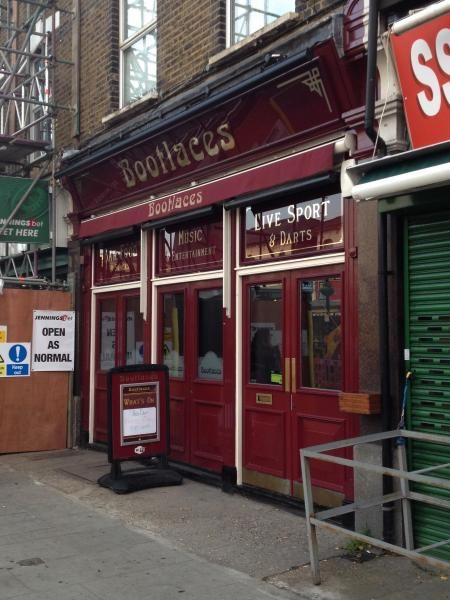 Pub with accommodation – but not above the shop
Many people dream of running a pub but fear it would be a nightmare to live above the shop. So how about a lock-up-and-leave option with a two-bedroom house just 100 metres away?
That's what Bootlaces on Lea Bridge Road in Walthamstow has to offer via licensed leisure specialists AG&G. The combined leases for the pub and a terraced house on Dunton Road have a guide price of £50,000 – and Bootlaces, a going concern, underwent a £60,000 revamp last year.
"It's a great opportunity for someone starting out in the trade, for an experienced operator or someone wanting to add to a portfolio and install a manager," says AG&G's Michael Penfold.
"Bootlaces is in a busy, mixed commercial and residential area and lies a slightly more than half a mile from Walthamstow Central Railway and Underground station and less than that from Leyton Midland Road overground station."
The pub is on the ground floor of a former shop and has an open plan trade area with servery and WCs. To the rear is a trade garden and yard. A manager's office in the basement accompanies the usual cellarage and storage.
The house is in a typical Victorian terrace, with a living room and kitchen on the ground floor and two bedrooms and a bathroom on the first floor. There's a garden at the back.
Both properties are under 10-year leases running to 10 February 2023 with combined passing rent of £38,000 a year. The house is subject to an assured shorthold tenancy.
Bootlaces' licence runs from 10am to 12pm Monday to Thursday, to 1am Friday and Saturday and 11.30pm on Sunday.
For further information, contact Michael Penfold on 020 7836 7826 or e-mail michael.penfold@agg.uk.com