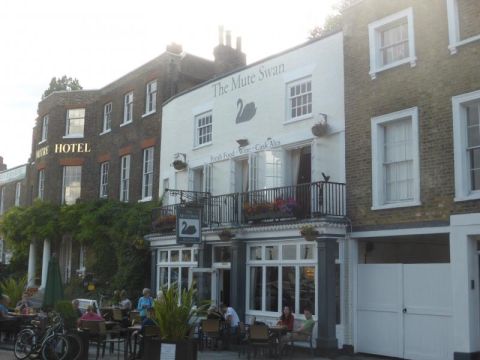 Mute Swan shouts quality investment opportunity
Anyone looking for a trophy investment in a stunning location that also gives a fine return should take a look at the Mute Swan, which is for sale through licensed leisure specialists AG&G.
Situated directly opposite the main gate to Hampton Court Palace, the position could hardly be better. It is run by Brunning & Price as what they describe as their "English-dining-pub-meets-wine-bar", with a selection of cask ales and fine wines.
The ground floor concentrates on a pub/wine bar ambience, while the first floor majors on food. A good-sized terrace with prime views of the palace gates provides an al fresco eating and drinking area in fine weather.
"It is a beautiful mid-19th century pub-restaurant with an excellent reputation," says AG&G director Anthony Alder, who is acting on behalf of the Crown Estate. "It's also an excellent investment at a guide price of £1.3 million. The rental is £65,000 a year with a lease that runs to 2034, which works out as roughly a five per cent return.
"The rent is adjusted every year by the retail price index, with a collar and cap at one per cent and four per cent respectively, so the buyer can be certain of a sustainable income. There is a tenant-only break clause in 2024."
For further information, contact Anthony Alder on 020 7836 7826 or e-mail anthony.alder@agg.uk.com