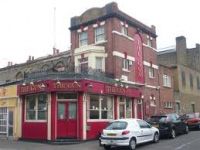 Locals Club Gunning for success in Hackney
Sometimes it takes a while to find the pub of your dreams but when you do, it become a labour of love, as new pubco Locals Club have found after taking a 15-year lease on the Gun in Well Street, Hackney, through licensed leisure specialists AG&G.
Set up by Nick Stephens, who has more than 15 years' experience running pubs, and Oliver Dixon, who runs a creative agency and was marketing manager for 580 Ltd/Lock Tavern Group, Locals Club plans to develop a portfolio of excellent local pubs.
"We've been looking for two-and-a-half years for the right pub in North and East London and we've fallen for the Gun and the area it's in. Well Street is a great little street and we think it could well be the next Broadway Market," says Oliver.
"It's become a passion project – though obviously we'd like it and its successors to earn their keep."
Michael Penfold of AG&G says, "It's great that people with so much enthusiasm and know-how are breathing new life into such an established pub. Once again, the Gun is going to be a terrific local asset."
Nick and Oliver aim to create a simple pub with fine local and artisan beers, quality spirits and a simple but excellent wine list. There will be a limited food menu, based on high quality ingredients.
"We've found magnificent Victorian tiles under layers of paint, so those will be revealed. We've also found lovely old signage under the existing ones, so they are coming back as well.
"As to the name – it used to be called the Gun Tavern and then the Gun, to support a particular football club. I'm not much of a fan of that club, so we're going to have a serious discussion about it…"
For further information, contact Michael Penfold on 020 7836 7826 or e-mail michael.penfold@agg.uk.com