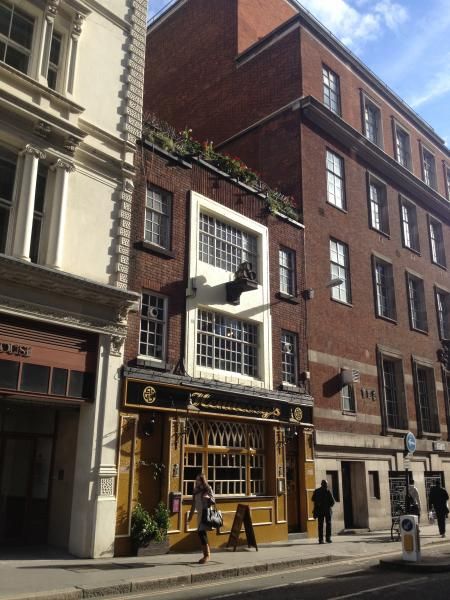 A historic opportunity in the heart of the City
Not many commercial properties can boast a heritage that includes Jack the Ripper and Roman remains as well as a history of good trade – but that's part and parcel of Hennessy's in Jewry Street, Aldgate, EC3, whose lease is available through licensed leisure specialists AG&G.
Built over the remains of a Roman wall, some of which can still be seen in the basement, the current property replaced a 17th century watering hole known as The Three Tuns. It is one of the few remaining traditional public houses in the City of London and is said to have been used as a hiding place by Jack the Ripper following one of his crimes.
Hennessy's is just by the gyratory, a busy, ever-developing area of the City, five minutes from the Tower of London and Tower Bridge and two minutes from America Square. To the east is The Minories, Whitechapel, Spittalfields Market and the rapidly expanding Shoreditch Quarter, known for its vibrant and diverse nightlife. Liverpool Street, Bishopsgate, London Wall, Bank and the Guildhall are to the north, while 30 St Mary Axe (or the Gherkin) and new Heron Tower are just two minutes to the west.
"Although the City provides the main customer base, Hennessy's also enjoys a steady tourist trade – especially during the summer," says AG&G's Panayiotis Themistocli.
"But there is much potential for further development, especially at weekends and for late night trading. The City no longer shuts down at 9pm as it once did – there are are now many late bars and nightclubs thriving in the area".
Aldgate station, Fenchurch Street, Tower Hill, Liverpool Street and Bank are all within five minutes' walk and Aldgate bus station is also just around the corner.
Smartly and fully fitted, Hennessy's has three floors. The main bar and ladies' and gents' WCs are on the ground floor and there is a covered courtyard area with furniture and heat lamps to the rear. A restaurant/function room is on the first floor along with a fully fitted commercial kitchen and WC. The second floor features a spacious two-bedroom flat with kitchen-diner, toilet and separate bathroom.
The lease is tied for draught and bottled beers and ciders – release options are available.  The passing rent is £43,500 a year.  The lease expires in 2031.  Premium offers invited.
For further information, contact Panayiotis Themistocli on 020 7836 7826 or e-mail Panayiotis.Themistocli@agg.uk.com