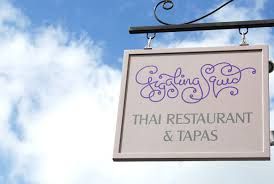 Giggling Squid extends its tentacles to Sevenoaks
The owners of the growing Giggling Squid restaurant chain had plenty to smile about after securing a prime site in Sevenoaks with the help of licensed leisure specialists AG&G.
The Dorset Street premises will house the 11th Giggling Squid restaurant in southern England, following recent acquisitions in Marlow, Horsham and Maidstone.
"Since owners Pranee and Andrew Laurillard opened their first restaurant in Hove in summer 2009, Giggling Squid has gone from strength to strength," says AG&G's Richard Negus, who brokered the deal on behalf of the new tenants.
"Their offer of organic, modern Thai food for upmarket, 35+ professionals seems to have struck a chord among diners with a taste for strong, fresh flavours. They have hopes of becoming the UK's first national Thai restaurant operation and we are happy to be able to help them."
The Laurillards also have Giggling Squid restaurants in Brighton, Crawley, Tunbridge Wells, Henley on Thames, Reigate and Stratford on Avon.
For further information, contact Richard Negus on 020 7836 7826 or e-mail richard.negus@agg.uk.com