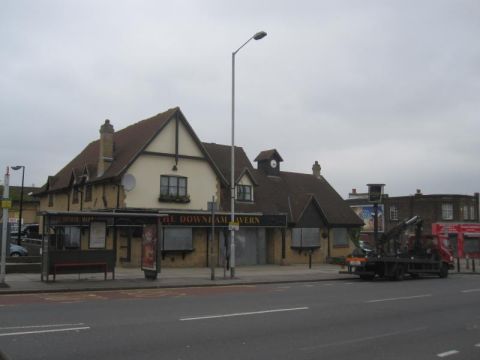 Big opportunity for new operators of world's largest pub
What was once the world's largest pub has become a free-of-tie independently operated outlet in a deal arranged by licensed leisure specialists AG&G.
The Downham Tavern in the Grove Park area of Bromley is being let at an initial free of brewery tie rent of circa £40,000 per annum. It originally opened in 1930 to serve a housing estate with more than 29,000 residents – hence its huge size.
"Even after all these years, there is still little competition from other pubs and bars locally" says AG&G's Panayiotis Themistocli. "But some things have changed. The pub used to have a ballroom and what they called a lunchroom. Those have gone and been replaced by a big car park. The remaining building has been remodelled since and is still a significant size, with 455 square metres (4,895 sq ft) of floorspace."
The ground floor is open plan with two raised seating areas and a dog-leg bar served from cellarage and storage in the basement. On the first floor is a three-bedroom, manager's flat plus a former trade kitchen linked to the bar below by a dumb waiter, an office and more storage. The current licence runs from 10am to 11pm six days a week and from noon to 10.30pm on Sundays.
For further information, contact Panayiotis Themistocli on 020 7836 7826 or e-mail panayiotis.themistocli@agg.uk.com