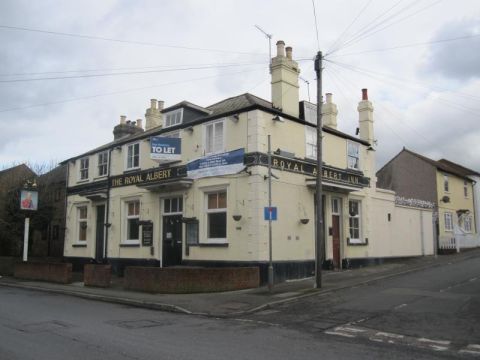 Three pubs offer opportunities for new owners
With London crying out for more homes, three pubs across the capital could be set for a new phase of their lives, especially as all of them are in residential areas.
The Eagle in Red Lion Lane, Shooters Hill, is a 1960s building that replaced a former Victorian structure at what was then Eagle Terrace – hence the name. It has a building footprint of some 153 square metres on a site of approximately 620 square metres and has just been bought off an asking price of £350,000.
"With two stories and a wide frontage, it would be suitable for conversion either into flats or two town houses," says Panayiotis Themistocli of licensed leisure specialists AG&G. "There is a large patio and garden area at the back and good views over an open field."
The Royal Albert, on Orpington's Lower Road, was built in mid-Victorian times to service the growing New Town. At an asking price of £300,000+VAT, the buyer will get a total of 366 square metres of floor space over two floors and a basement.
"It's almost equidistant between Orpington and St Mary Cray stations – both are just a 10-minute walk, putting the building in prime commuter territory for London Bridge and London Victoria stations," says Panayiotis. "It's also just 250 metres from the High Street, so shopping is easy."
The Lord Raglan, on Hazel Road, Slade Green, is one of only two pubs in the vicinity. Pub fact – the name Slade Green derives from a vegetable patch that used to be at the location.
"This is an attractive, late Victorian building with a gross floor space of 340 square metres, again over two floors and a basement, on offer at £270,000+VAT," says Panayiotis. "It's a short walk to Slade Green railway station, with trains to London Cannon Street and Dartford.
"All three properties could make lovely homes, once the necessary permissions are in place."
For more information, contact Panayiotis Themistocli on 020 7836 7826, e-mail pthemistocli@agg.uk.com