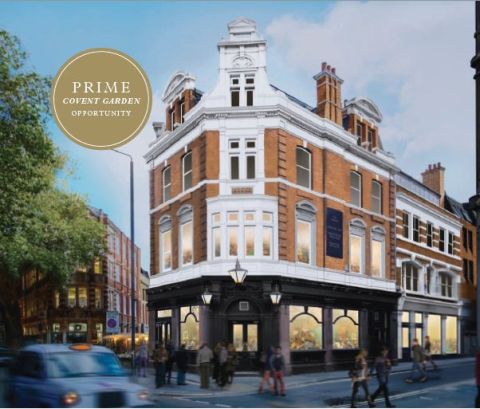 Landmark location for eating and drinking
If you believe in the old mantra of location, location, location, then the former Marquis of Granby on Cambridge Circus has to be perfect for a new restaurant, bar or pub.
At the heart of London's theatreland and the gateway to Covent Garden's Seven Dials shopping district, the site at 142 Shaftesbury Avenue has been home to a pub since the 18th century, although today the area is becoming a foodie mecca, with landmarks such as The Ivy and L'Atelier de Joel Robuchon a stone's throw away.
Other dining destinations include J Sheekey, Kopapa, Burger & Lobster, La Bodega Negra, Dishoom, Jamie's Italian, Bill's and Hawksmoor.
"This is a new shell unit that amalgamates the old pub and adjoining accommodation in West Street to offer a total of just over 5,000 square feet from basement through to first floor, with more than 2,000 square feet on the ground floor," says David Gooderham of licensed leisure specialists AG&G, who are offering a new lease on the property.
"The licence from the Marquis of Granby has been protected so it can be passed on to the incoming operator and although the rear of the property in West Street does not have a licence, planning permission is in place for A3/A4 use.".
"Given the fantastic position and footfall, with tourists, shoppers, theatre-goers and guests at nearby luxury hotels, the potential is enormous."
For more information, please contact David Gooderham on 020 7836 7826, e-mail dgooderham@agg.uk.com or media@agg.uk.com.