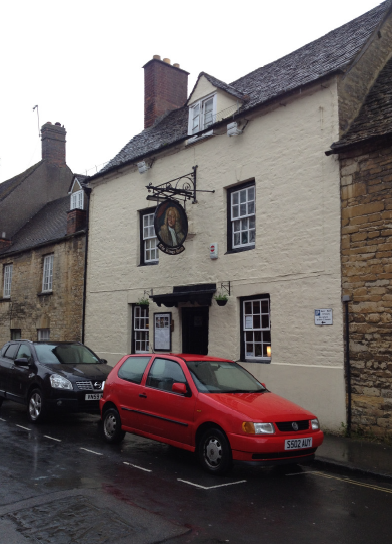 King's Head is tied up with history
With the World Heritage Site of Blenheim Palace just down the road, it's hardly a surprise that the King's Head in Woodstock is drenched in history – and a solid investment opportunity at a guide price of £475,000, through licensed leisure specialists AG&G.
It first opened its doors in 1801 in a building that goes back even earlier. The datestone reads 1735, when it was probably owned by carpenter Walter Payne. His initials can still be seen, along with a carved monkey.
The present tenant's lease runs to August 2015 and they're paying a passing rent of £21,033 a year – but there's more. The lease stipulates that the tenant has to buy beer and cider from the landlord's nominated supplier.
"That gives any buyer a second income opportunity," says AG&G's James Grimes. "If any potential buyer is not used to tie income, we can certainly advise, as we have in many other cases.
"The Kings Head is also an excellent investment. It's in prime tourist country, just off the main High Street, which attracts many of the people who visit Blenheim throughout the year. Winston Churchill was born there, so it's entirely likely that he used to pop in for a pint."
The building is part of an old terrace and has three floors over a basement with standard cellarage and storage. The ground floor contains a bar area with single server, dining areas, trade kitchen and storage. Upstairs are four rooms, with more storage on the first floor and a room and bathroom on the second. Outside there's a trade garden and a single storey outbuilding. The building's footprint is 226 square metres (2,438 square feet), on a plot of 462 square metres (4,973 square feet).
For further information, contact Michael Penfold on 020 7836 7826 or e-mail michael@agg.uk.com