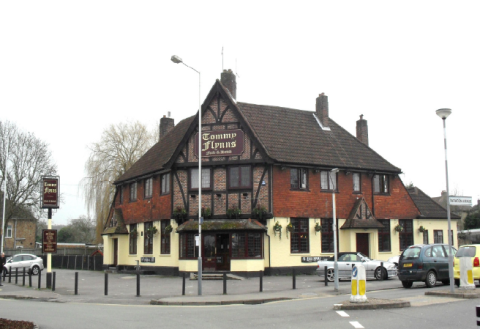 End of the day for Tommy Flynns, Hillingdon
However long the day, night must fall, according to the old Irish saying – and it has finally fallen on Tommy Flynns in Hillingdon, UB10.
"The pub has enjoyed a long and useful life serving its community but times have changed and there is a lot less demand for large, suburban watering holes in the 21st century," says James Grimes of licensed property agents AG&G, who handled the sale.
"It's a substantial property with a large trade garden and a car park, giving the site a very desirable total area of 2,494 square metres (26,850 square feet), so it generated a lot of interest. The freehold was bought by a local investor for significantly more than the guide price of £950,000 – he recognised that the site was ripe for redevelopment."
Tommy Flynns is situated on Sutton Court Road and is within easy reach of  junction 14 of the M25 and junction 4 of the M4, as well as the A40. The two-storey-plus-basement property comes with six-bed accommodation above the ground-floor trading area and has a building footprint of approximately 420 square metres (4,524 square feet).
Uxbridge and Brunel University are a short drive away and Hillingdon Court Park is just a few minutes' walk.
For further information, contact Michael Penfold on 020 7836 7826 or e-mail michael@agg.uk.com