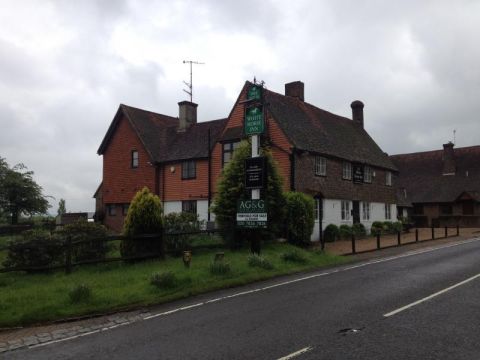 Choices, choices for new owner of White Horse
With a beautiful location close to not one but two golf courses, the White Horse at Cowden in East Sussex could become a destination restaurant or stay as a pub with letting rooms – it has 11 to offer. Whatever the new owner decides, the listed building is about to gallop into a new future after being bought off a guide price of £500,000 through licensed leisure specialists AG&G.
"The buyer is going to take some time considering options," says Michael Penfold of AG&G'. "The views are spectacular and it sits on a big site of nearly two acres, with lots of room for parking.
"It was previously a country pub with letting rooms that were often used by visitors to next door Holtye golf club and nearby Sweetwoods Park club but it could now become a must-visit restaurant with accommodation.
"And if the new freeholder can get through the problems of conversion, given its Listed Grade II status, it could become a magnificent home or homes with stunning views."
The main building has seven bedrooms on its first floor plus manager's flat with bedroom, sitting room, kitchen and storage. There is a further double bedroom in a loft extension. With interconnected trade areas, a trade kitchen, a restaurant and customer WCs, there is plenty of room for a pub or restaurant operator. Four guest bedrooms in a separate cottage could be hived off or become a guest annex or granny flat.
For further information, contact Michael Penfold on 020 7836 7826 or e-mail michael.penfold@agg.uk.com