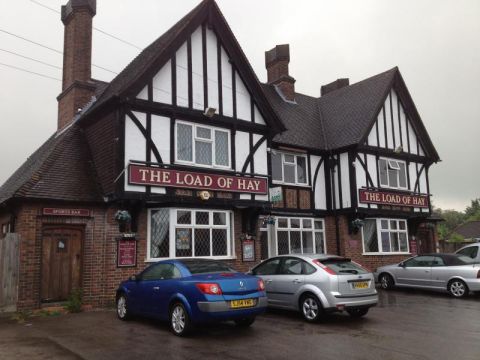 Chance to make hay in Middelesex
There's a reason why the Load of Hay pub in Bedfont, Middlesex, has such a large car park in front of it – that's where the pub used to be. Back in the 1930s, the owners wanted bigger premises, so they built a new pub in the back garden before knocking down the one in front.
It's on the market, 15-vehicle car park and all, with a guide price of £600,000 (plus VAT) through licensed leisure specialists AG&G. It's also got a rear trade garden that leads down to the Longford River.
"With a site area of more than 1,100 square metres, there is potential for redevelopment or an alternative use, subject to necessary consents" says AG&G's NAME.
"It's prominently situated on Staines Road, near Heathrow airport and only a mile from Hatton Cross tube and less than that from Feltham station, so it may also appeal to a pub or restaurant operator."
The building has two stories over a basement. The ground floor contains three trade areas with a central servery, a kitchen, customer lavatories, an office and storage areas. The first floor manager's flat has four rooms, a kitchen, bathroom, lavatory and storage areas. The basement holds a beer cellar and storage.
For further information, contact Michael Penfold on 020 7836 7826 or e-mail michael@agg.uk.com