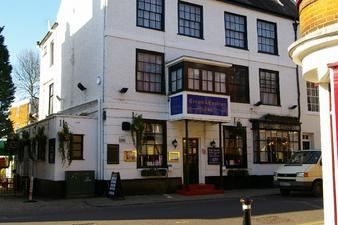 Boutique deals across the country
Bring together a burgeoning boutique pub chain and a fast-growing boutique licensed leisure consultancy and the result is a series of sales and acquisitions – most recently, the Church Street Townhouse in Stratford-upon-Avon and the Crown and Cushion in Eton, both of which were bought by City Pub Company in deals brokered by AG&G.
AG&G also sold the Enterprise Investment Scheme-funded venture run by former Capital Pub directors Clive Watson and David Bruce its first outlet, The Cork in Bath, for £2.272 million earlier this year.
The freehold of the Church Street Townhouse, which has 12 luxury letting rooms, fetched £2.4 million. It is a pretty, 400-year-old listed building opposite Shakespeare's school and only two minutes' walk from the Royal Shakespeare Theatre, with a neighbourhood bistro and two bars.
The Crown and Cushion, a coaching inn dating from around 1560 that had previously been marketed as budget accommodation, is set to re-open in the autumn after a significant investment by City Pub Company, which has bought its lease.
"These are terrific foundation properties in an attractive new portfolio, in popular and upmarket destinations," says AG&G director James Grimes. "It's a pleasure to be involved with such a high quality venture."
For more information, contact James Grimes on 020 7836 7826, e-mail jgrimes@agg.uk.com.