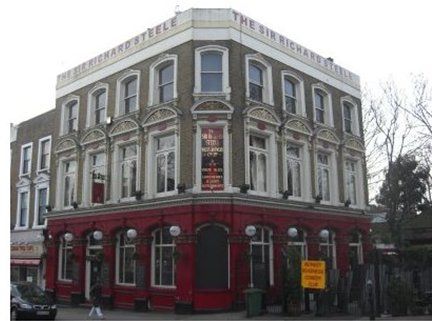 Sir Richard Steele changes hands after 20 years
As co-founder of The Spectator magazine, Sir Richard Steele hoped to promote well-informed social interaction – so it's appropriate that his name was given to one of North London's most sought-out pubs. And now The Sir Richard Steele is set to inspire more conversation after changing hands for the first time in 20 years.
The landmark corner pub on Haverstock Hill, Belsize Park, was recently sold to the Faucet Inn group off an asking price of £3.75 million.
"It's not often that you get to sell a London pub that has had the same private owner for around two decades, especially one as marketable as The Sir Richard Steele," says James Grimes of licensed leisure specialists AG&G, who handled the sale.
"It is in one of North London's most fashionable residential districts and over the years has earned a reputation as one of the area's finest character pubs, with its charmingly idiosyncratic interior, real ales and piano in the corner. It's a worthy addition to Faucet Inn's stable of traditional English pubs and modern bars."
The Sir Richard Steele is a substantial three-storey late Victorian property above a basement. As well as a ground-floor bar area and kitchen, it has a first-floor function room with bar and a three-bed manager's flat on the second storey. There is also a beer and storage cellar and trade garden. It was sold freehold with vacant possession.
For more information, contact James Grimes on 020 7836 7826, e-mail jgrimes@agg.uk.com or media@agg.uk.com