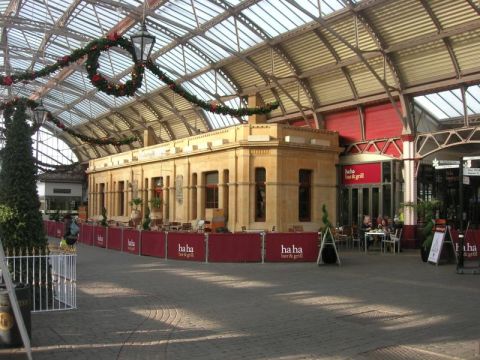 Rent reviews with a royal connection
When AG&G director Anthony Alder was recently summoned to Windsor it was not to attend the Queen but it was on royal business – of a kind. AXA Sun Life called him in to carry out rent reviews on its licensed leisure interests at the Windsor Royal Station shopping complex.
"Windsor Royal Station is one of the most successful and attractive station development schemes in the country, so it was a pleasure to be involved," he says.
"The outlets concerned ranged from Café Nero and the tapas restaurant La Tasca to the local Ha Ha bar and grill. The latter proved a bit of a history lesson as it occupies Queen Victoria's grade I listed waiting room, as it was in 1897. Even her personal toilet and hand basin have been preserved for posterity and are on display behind a glass screen. It's the first time I've been asked include a royal throne in my evaluation."
Windsor Royal Station is a grade II listed, mid-19th century railway station. AXA Sun Life acquired the site in 1997 and, after remodelling and enlarging the buildings, turned it into Windsor's main shopping centre.
The station, part of which still serves as a railway terminus, currently houses more than 40 shops, as well as a variety of restaurants, bars and cafes and a craft market. It attracts 160,000 to 180,000 shoppers each week.
For more information, contact Anthony Alder on 020 7836 7826 or e-mail aalder@agg.uk.com.