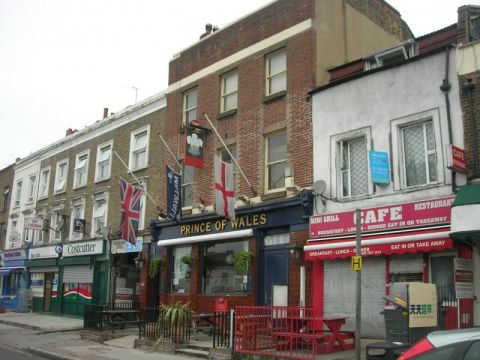 Princely opportunity for long-term investment
Like its namesake, the Prince of Wales pub in Rotherhithe, SE16, is waiting for its big moment to come – and, with an asking price of £295,000 for the freehold, it shouldn't have to hang around for long.
The terraced property features residential accommodation spread over two floors above a 110 square metre (1,185 square foot) open-plan trade area and beer cellar. Located on Plough Way, in the up-and-coming Surrey Quays area of Docklands, it is likely to be a good prospect for investors looking for long-term growth, according to licensed leisure specialists AG&G.
"The Prince of Wales is a fairly unassuming pub but it has a lot going for it," says AG&G's Anthony Alder, who is dealing with the sale on behalf of owners Shepherd Neame.
"The living accommodation would make a very attractive two-bedroom flat. Then there is its location just a short stroll from Surrey Quays tube station, which is one stop from Canary Wharf and five from Westminster. It is also handy for the shops and entertainments of Surrey Quays. And if that's not enough, it's a popular haunt of Millwall fans going to and from The Den and is well placed to scoop up business from the Olympics. So it really is a property that has something for pretty much everyone."
Rotherhithe has been on an upward trajectory since the arrival of the Jubilee line in 1999 and as a result of the Docklands regeneration scheme. It has long-standing links with royalty, with one of its lesser-known claims to fame being that it was the place where Princess Margaret met her husband, Tony Armstrong Jones.
For more information, contact Anthony Alder on 020 7836 7826, e-mail aalder@agg.uk.com or media@agg.uk.com.