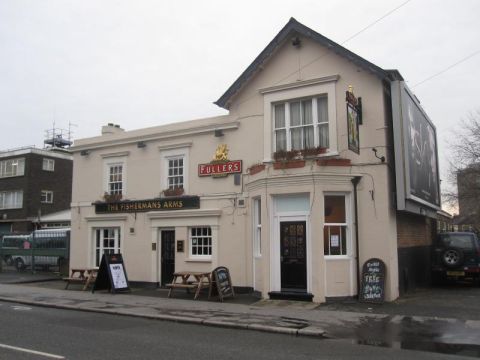 Local buyer reels in Croydon's Fisherman's Arms
A local investor has landed Croydon's Fisherman's Arms pub, reeling the freehold property in off an asking price of £475,000.
The traditional two-storey pub is quite a catch for its new owner, covering a total site of around 980 square metres (10,500 square feet) – a substantial amount of which is currently lawned trade garden and parking. It is not clear whether the buyer intends to continue running the Fisherman's Arms as a pub or to put his generously-proportioned property to another use.
"The Fisherman's Arms is in a strong position, less than a mile from the town centre and close to several superstores in an area of mixed residential and retail use, so it offers its new owner a number of opportunities," says Panayiotis Themistocli of licensed leisure specialists AG&G, who dealt with the sale.
"But whatever the buyer has in store for the building, it seems likely that the Fisherman's Arms will continue to be a feature of the Croydon landscape for some time to come."
The Fisherman's Arms, on Windmill Road, is within easy walking distance of Croydon's main rail and tram stations – transport hubs that have their origins in the stage coach routes to Brighton established in the late 18th century. Its name is probably a reference to the River Wandle, a major tributary of the Thames that rises in Croydon.
For more information, contact Panayiotis Themistocli on 020 7836 7826, e-mail pthemistocli@agg.uk.com or media@agg.uk.com