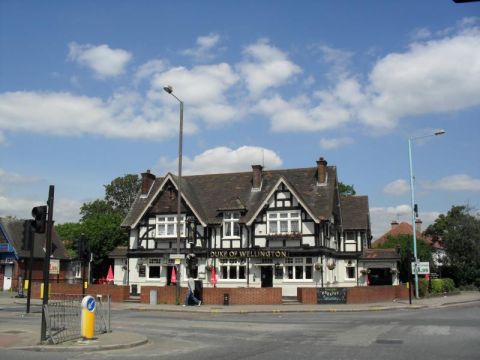 Duke of Boots on the road to redevelopment
Developers looking for a property with good connections would be hard pressed to do better than Hounslow's Duke of Wellington. Not only is this substantial, detached pub just three miles from Heathrow airport and within easy reach of several railway stations and the A4 Great West Road, it is on the route of an ancient Roman road.
The Duke of Wellington is a two storey, mock Tudor property with extensions to the side and rear. The site covers a plot of around a third of an acre, including a tarmac car park with two entry points. The building footprint is approximately 360 square metres (3,860 square feet).
The ground floor comprises a trade area, kitchen and customer toilets over a basement beer and general storage area. On the first floor there is a two double-bed manager's flat plus further staff accommodation, which includes three double bedrooms.
"Having sold half a dozen sites in the borough in the past 18 months, we have got to know the Hounslow area pretty well – and we expect to get a lot of interest from developers for this promising freehold," says James Grimes of licensed leisure specialists AG&G, who handling the sale.
"There are plenty of options, from converting the upper floor into residential accommodation with retail or fast-food premises below to knocking the whole thing down and starting again. It's in an up-and-coming area of mixed commercial and residential use, so we are anticipating some serious seven-figure offers."
Hounslow's location on the main western road from London mean that its fortunes have been closely tied to transport links for centuries. In 1919, Britain's first commercial, scheduled daily international flights left from Hounslow Heath Aerodrome.
For more information, contact James Grimes on 020 7836 7826, e-mail jgrimes@agg.uk.com.