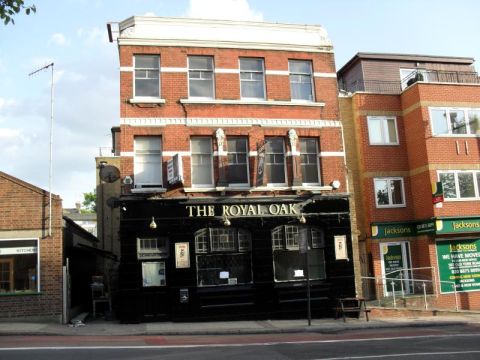 Three down, one to go - soon
Every district of London has its own character and attracts a different type of person. This could help explain why three out of four pubs brought to market on behalf of a pubco in the past few weeks by licensed leisure specialists AG&G are already under offer and the fourth is awaiting best and finals.
"They are all mid-priced outlets, which are generally too big for smaller developers and probably too small for major investors," says AG&G director David Gooderham. "But this size of property appeals to free-of-tie operators and owner-operators. The demand is there."
While The Guardian might describe Wandsworth as "groovier than anywhere else in Britain", the borough's Royal Oak close to the Town Hall is a solidly reassuring red brick Victorian pub. At an asking price of £595,000, the buyer gets 85.9 square metres of floor space (924 square feet) of ground floor trade area, a further outdoor trade area of more than 25 square metres (273 square feet), plus a yard, living accommodation that includes five bedrooms – and an extensive and well-off catchment area. Licensing is to 2am on Fridays and Saturdays.
The Dick Turpin has proved a steal at a guide price of £750,000. The highwayman was no stranger to the pub's location in Finchley, although it dates from well after his hanging. With a site area of 579 square metres (6,234 square feet), including paved trade areas to the front and rear, its location means lower than average competition. The trade area of 162 square metres (1,743 square feet) includes a kitchen. There is also accommodation of three bedrooms, a sitting room and a kitchen. Its Premises Licence runs to midnight six days a week and until 11pm on Sundays.
The Welcome Hand in Rainham, east London, has a large, 2,415 square metre – more than half an acre – site for its asking price of £575,000, including parking for 45 vehicles. Set in a residential area, it currently consists of a 362 square metre (3,898 square feet) ground floor area and first floor accommodation that includes three bedrooms and a sitting room and kitchen. There is also a large outside trade area and a garage.
The Bell In Southwalk has been a pub since at least 1856, when Samuel Woodgates was the landlord and its road, Webber Street, was known as Friar Street. With an attractive frontage and a short 400 metres from Southwark Tube station, it has a trade floor area of 150 square metres (1,617 square feet) and accommodation that includes seven bedrooms. It also has a courtyard.
David says, "The Bell is a fine pub in a good location but could be turned into residential accommodation or a restaurant with necessary permissions. It would not be surprising if it exceeds its asking price of £695,000 – there is a lot of interest and bids are still coming in."
For more information, contact David Gooderham on 020 7836 7826, e-mail dgooderham@agg.uk.com or media@agg.uk.com.