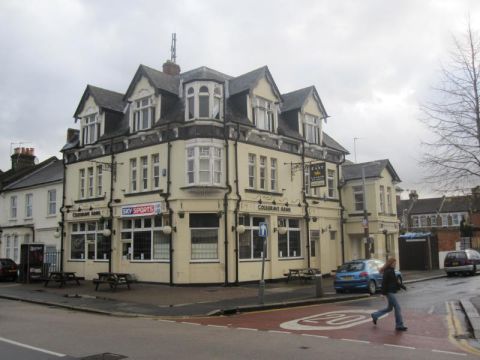 Pub brings together a royal forest and Hollywood's king of suspense
Investors on the hunt for a development opportunity are invited to consider the Colegrave Arms, a generously-proportioned Victorian pub near the edge of historic Epping Forest – once a royal hunting ground for Tudor monarchs including Henry VIII and Elizabeth I.
The three-storey, end-of-terrace property, which fronts the junction of Cann Hall Road and Tavistock Road in Leytonstone, East London, is on a plot of roughly one-fifth of an acre, according to licensed leisure specialists AG&G, who are handling the sale of the freehold. The footprint of the building is approximately 565 square metres (6,080 square feet).
"This is a fairly substantial traditional pub with a large bar trading area, two floors of living accommodation and outside space. It is neither listed nor in a conservation area and is close to local transport links, so it offers considerable investment potential – perhaps as a restaurant or housing development, or a combination of both," says AG&G's James Grimes.
The Colegrave Arms has six double bedrooms, a kitchen and a bathroom on the first floor and a further four large rooms on the second floor. There is also a basement cold-store and general storage area. The guide price is £525,000.
Leytonstone, which was part of Essex until 1965, touches the boundaries of Epping Forest at the wooded areas of Hollows Pond and Wansted Flats. The pub gets its name from the Colegrave Family, who owned the Cann Hall estate – now the ward of Cann Hall – in the nineteenth century.
The district has produced some notable figures in its time, including Alfred Hitchcock, whose films are depicted in mosaics at the entrance to Leytonstone tube station. Other famous sons and daughters include footballer David Beckham, cook Fanny Craddock, cricketer Graham Gooch, actor Derek Jacobi and Britain's youngest self-made millionaire, Dominic McVey.
For more information, contact James Grimes on 020 7836 7826, e-mail jgrimes@agg.uk.com or media@agg.uk.com.