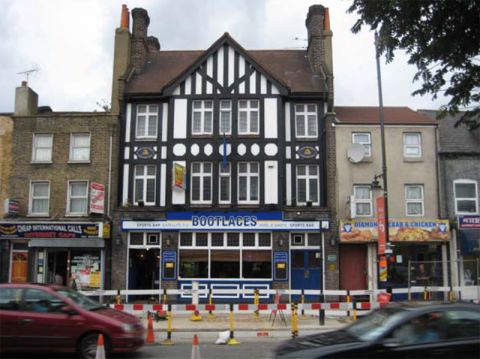 New bearings for old London pubs
North, South, East or West, pubs are selling – even in the difficult mid-price range. Licensed leisure specialists AG&G have found buyers for greater London pubs in Tottenham, Orpington, Leytonstone and Greenford.
"The top end of the market – £1 million plus – is stable, with prices firm," says AG&G director James Grimes. "At the other end, many smaller developers and owner-operator publicans are snapping up properties. In the middle, between £500,000 and £1 million, pub operators are mainly the buyers, though there are some interesting exceptions."
In north London, Tottenham's Bootlaces pub is named after its proximity to Spurs' football ground. In fact, it's virtually opposite, which makes match days busy in the L-shaped bar, on the trade patio and in its large beer garden. The ground floor also contains a disused trade kitchen. Accommodation on the first and second floors includes four bedrooms, a living room, an office and a kitchen, bathroom and WC. It was for sale freehold at £575,000.
In the south, Orpington's locally listed Priory Tavern and Refectory was first known as the Artichoke back in the 1850s. Situated in a strong restaurant area on the High Street in a conservation area, it is just a kilometre from the town's railway station. The ground floor contains a split-level L-shaped bar and trade kitchen and doors lead out to a large trade garden. The site also includes a four-car garage. The first floor has three bedrooms, a sitting room, office, bathroom and domestic kitchen. The 700 square metre (7,500 square feet) site was for sale at £525,000.
In the east, Leytonstone's Colegrave Arms may become a place of worship, subject to consents. The site footprint is some 585 square metres (6,080 square feet), including the building of approximately 295 square metres (3,175 square feet). Internally, the ground floor consists of bar and games areas and a trade kitchen. The first floor has six bedrooms, a bathroom and a kitchen, with a further four rooms on the second floor. The basement has storage and a cold beer store. It was also for sale at £525,000.
And to the west, the Greenwood in Greenford sits on an even larger site, of some 1,500 square metres (0.37 acres), with a building footprint of approximately 800 square metres (8,600 square feet). The early 20th century pub's ground floor holds not only a sizeable subdivided trading area but also a function room and a double-height ballroom with a licensed capacity of 300 people. On the first floor are nine bedrooms, a trade kitchen, a bathroom, shower room, two lavatories, a living room, an office, domestic kitchenette and female customer lavatories. Again, this is under offer at a substantial asking price.
"Even in post-recession times, there are strong buyers for the right properties. These examples show that there are good uses for old pubs," says James.
For more information, contact James Grimes on 020 7836 7826, e-mail jgimes@agg.uk.com or media@agg.uk.com.