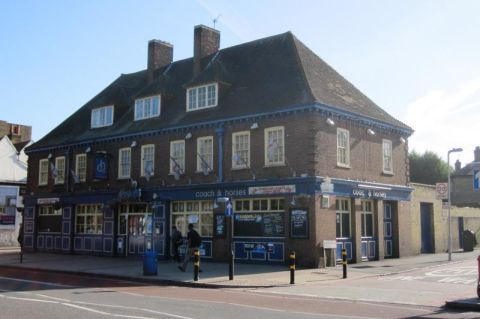 Good transport links put Lewisham pub on investment map
Potential buyers of the Coach and Horses pub on Lewisham High Street should not have any trouble viewing the property – it's located in something of a transport hub. As well as easy access to the south coast by road, the area boasts two mainline railway stations – Ladywell and Lewisham – and the southern terminus of the Docklands Light Railway.
The three-storey detached property has a footprint of approximately 3,740 square feet, which includes a large, open-plan L-shaped bar area. The upper floors are divided into two separate living units, one with two bedrooms and the other with four bedrooms and an office. Outside, there is a trade yard and storage area. 
"The Coach and Horses is a substantial building in a central location just south of the main shopping area and lies within the St Mary's conservation area. With such good transport links, Lewisham is a promising area for investors – and this property certainly has potential, whether as a pub or for alternative use," says James Grimes of licensed leisure specialists AG&G, who are handling the sale.
AG&G is inviting offers for the freehold.
Lewisham, whose name is derived from the Saxon for "house among the meadows", is said to be haunted by the cries of the victims of a fatal steam-train crash, which took place in December 1957.
On a happier note, the London Borough has produced more than its fair share of famous names, including the legendary musicians Ginger Baker, Kate Bush, Jimi Hendrix, Sid Vicious and Bill Wyman. Other notables include comedian Bob Hope, actor Jude Law, music-hall performer Marie Lloyd, survivalist Ray Mears, writer Edith Nesbit, Margaret Thatcher's husband Denis, anti-apartheid campaigner Archbishop Desmond Tutu and England footballer Ian Wright.
For more information, contact James Grimes on 020 7836 7826, e-mail jgrimes@agg.uk.com or media@agg.uk.com.