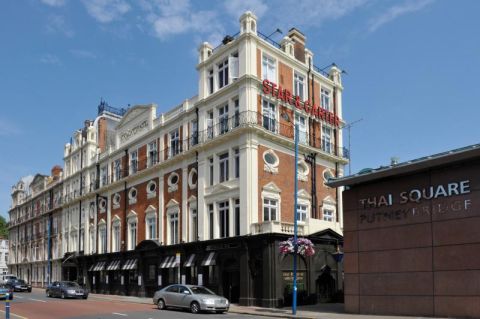 They're off! Landmark Boat Race pub seeks new owner
Every year, 120 million people in 180 countries see a Putney pub take centre screen in the television coverage of the Oxford and Cambridge Boat race. Meanwhile, it's standing room only at the Star & Garter, which sits on the banks of the Thames at the race's start.
The freehold of this London landmark is now for sale and expected to attract substantial offers, according to licensed leisure specialists AG&G, who are handling the deal on behalf of Scottish & Newcastle Pub Enterprises.
"The place has a great Thames history. It was originally built as an hotel in the mid-19th century specifically for the boating and sailing community and even had a boathouse at basement level. The Ranelagh Sailing Club was founded there 120 years ago," says AG&G director David Gooderham.
"It's magnificent and massive, at more than 16,400 square feet – and one of the best locations for watching one of the world's great sporting events."
The Star & Garter is currently leased to Glendola Leisure until 2026.  As well as an annual rent of £97,000, the tenant is tied to buy beer and cider from the freeholder's nominated supplier.
With five floors, a roof terrace, a ballroom, more than a dozen bedrooms and ground floor and basement bar areas, the building could at some point be converted to other uses, subject to permissions. It is not listed but is in a conservation area.
"Its location by the river could not be bettered, it is exceedingly prominent and is a much-loved Putney, London and international landmark. It will be a star in someone's portfolio," says Gooderham.
For more information, contact David Gooderham on 020 7836 7826, e-mail dgooderham@agg.uk.com or media@agg.uk.com.