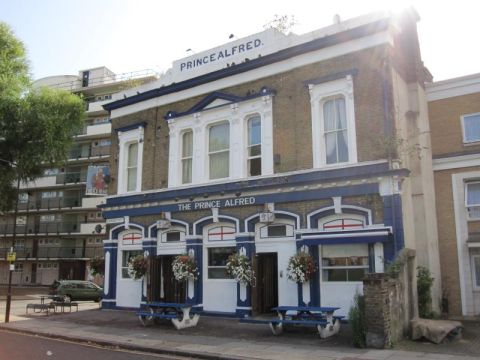 Princely pub with substantial potential
The Prince Alfred is an old-style East End boozer with lots of potential –approximately 342 square metres (3,680 square feet) of it, in fact.
That is the size of the plot covered by this two-storey freehold pub in Poplar, E14. A little over a mile from major developments in the Canary Wharf area, it is at the end of an attractive street of Victorian houses in the Brickfield Gardens Conservation Area. The pub is not listed, however, opening up the possibility of alternative uses.
Ground floor features include the bar, with games room to one side, and, outside, a private yard with gated access and out-building. On the first floor there is split-level domestic accommodation with three double and one single bedrooms. The property also has a basement beer cellar and general storage area.
"The location and size of the Prince Alfred mean it has plenty of potential for development or to continue as a pub," says James Grimes of licensed leisure specialists AG&G, who are handling the sale.
"It is an attractive property and, with an asking price of around £600,000, should be an appealing proposition for investors."
Located in the London Borough of Tower Hamlets, Poplar is currently undergoing a multi-million pound housing and community regeneration programme. It is home to some of Britain's most outstanding examples of 1960s Modernist and Brutalist architecture, including the famous Robin Hood Gardens "streets in the sky" residential complex.
Poplar's famous sons – and daughters – include Tommy Flowers, designer of the first programmable computer, football manager Harry Redknapp and Hollywood actress Angela Lansbury, star of Murder She Wrote.
For more information, contact James Grimes on 020 7836 7826, e-mail jgrimes@agg.uk.com or media@agg.uk.com.