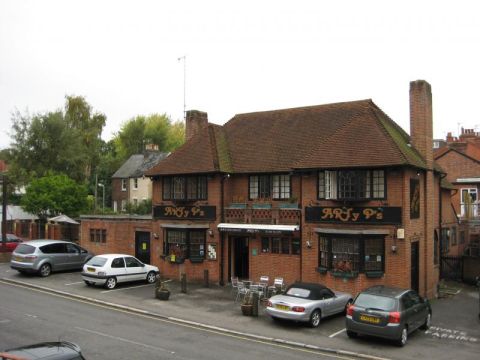 Modern business opportunity in historic Dorking
Not many market towns can boast smugglers' caves, world-famous antiques shops and a literary tradition that harks back to Charles Dickens and Jane Austen. But that is what awaits the buyer of Dorking's Arty P's pub, which is being offered for sale by licensed leisure specialists AG&G.
The freehold bar and restaurant, which is owned by Punch, is on the market for £565,000.  Located just off the High Street, it is surrounded by a mixture of residential and commercial premises, including a hotel.
"Arty P's is a distinctive, well-presented property and, although it is in a conservation area near the centre of Dorking, the building is not listed. So it offers great potential to a buyer who wants either to continue running it as a pub or to give it a new identity, for example as a restaurant," says James Grimes of AG&G.
The 5,200 square foot (480 square metre) site includes ten parking spaces and a timber-decked trade garden. There is also spacious living accommodation on the first floor, with four double bedrooms. The town's two railway stations are just half a mile away.
Set in the Surrey Hills around 25 miles from London, Dorking's picturesque location, good transport links and vibrant history make it popular with visitors and as a dormitory town. It has a thriving shopping area, renowned for its antique dealers, and has attracted the attention of a long line of literary figures, from the poet John Keats to the novelist E M Forster.
Jane Austen was a regular visitor to the area and Charles Dickens set part of The Pickwick Papers in the town, modelling one of the characters on a local publican.
But Dorking's most unusual claim to fame must be its network of sandstone caves. All man-made, they are believed to have been used for purposes ranging from cock-fighting and hiding persecuted priests to storing smuggled contraband and providing materials for rebuilding London after the Great Fire of 1666.
For more information, contact James Grimes on 020 7836 7826, e-mail jgrimes@agg.uk.com or media@agg.uk.com.